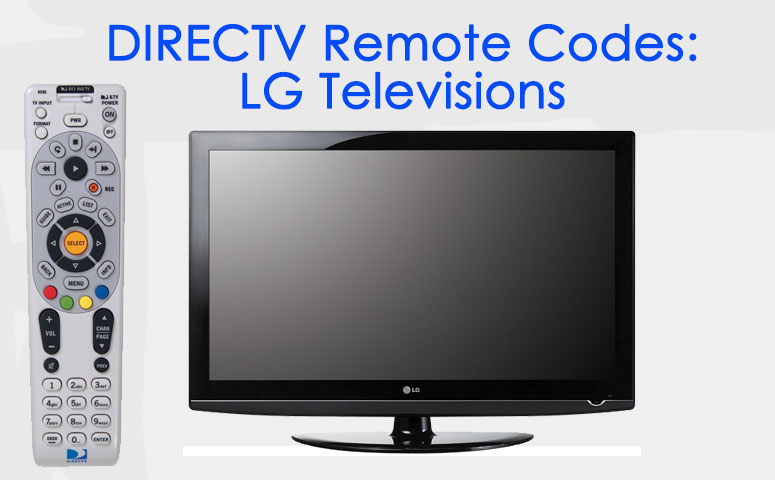 There is nothing better than getting a new TV, but there is also nothing more annoying than having to control both the satellite receiver and television with 2 separate remotes. If you are having this problem and trying to find out what DIRECTV remote codes will work to control your LG TV, then you are in luck. Below I will list the different codes that will allow your DIRECTV remote to control your TV.
Everything is pretty straightforward and once you have found the right code, then you should be in business in no time.
The codes below have been listed by DIRECTV themselves to work with your LG TV. If you have tried all of them and you are still having problems, then it would be a good idea to try and programing the remote control manually.
5-Digit Remote Codes for LG Televisions
11423
10178
10823
11265
11178
11993
11325
10829
10856
11004
10442
10700
10017
11483
11436
How to Setup the Remote to Work with LG televisions
On the DIRECTV remote, look for the "mode switch" and shift it over until it is on AV1
You are now going to hold down the MUTE button and then hold SELECT button at the same time. The LED on the remote should blink twice
Here you will enter one of the 5 digit codes from above.
Try and see if you can turn the TV off or turn the volume up and down.
If the code does not work, then you can try a different one until you are able to control the TV.
How to Manually Setup the Remote
The codes above should work and you should be on your way to using your DIRECTV remote on your LG TV. If for some reason none of the codes worked, then you could manually try and get the remote to recognize the television.
On the remote, move the "mode switch" until it is on AV1
Hold down the MUTE button and also press the SELECT button. When you do this, the LED on the remote should start to blink twice.
Enter  991 and then the code # for your device. 1 for TV's, 2 for "AUX 1" devices such as DVDs or VCrs, 3 for "AUX 2" devices such as Audio.
Once the code is in, you can manually scan for the right code to control the LG TV.
You will keep pressing the Channel Up button until the TV turns off.
If the TV turns off, try and control it with the remote, either by changing the channel or turning the volume up.
If the TV works properly with the remote code, you can press the "Select" key to lock it in.
Use the DIRECTV On-Screen Menu
With some of the newer DIRECTV receivers, you can use the on-screen guide to help program your remote control. If you are interested, you can check out the video below as to how you can do this.