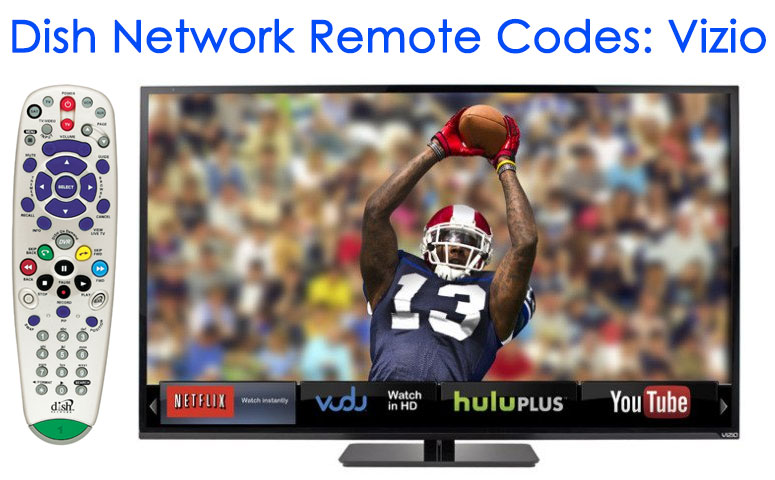 Must be pretty annoying trying to figure out the Dish Network remote code works with your Vizio TV. Well you have nothing to worry about, as I will provide you with the 3 digit code which should have the remote working with the TV in no time.
The codes listed below should work with the Dish controller. If for some reason they are working, then you can try to manually program
You can try the codes listed below and see if they work with your controller. If not, then you can try programming it manually.
3-Digit Remote Codes for Vizio
511
535
562
575
593
598
773
How to Setup the Remote to Work with the Vizio TV
On the remote find the TV button and hold it down for three seconds until all the mode keys light up. Once this happens, release the button.
Find the corresponding code for the Vizio TV above and enter it at that time.
Press the POUND (#) button to lock in the code. The mode light should flash three times.
Try and power on the TV or control the volume with the remote.
If the code does not work, repeat the step and try a new one until the remote responds to the TV.
How to Manually Setup the Remote
The codes listed above will generally work for the Vizio TV. If for some reason the remote is not working with the codes provided, you can try to a manual scan for the correct remote code.
Turn on your Vizio TV
Press the Mode button on the remote until the TV mode is flashing
Press the Address button. Here the mode light will begin to flash slowly.
Press the Power button after that. The mode light will stop flashing but stay lit.
Press the Up or Down button to find the remote code for the Vizio TV.  The Up button scans forward and the Down button scans backward.
Once the remote picks up the right code, the TV will turn off.
Press the Address button to lock the code in.
You can now try and turn on the TV with the Power button.
To ensure that you have the right remote code, try using other buttons on the remote to see if they are responsive.
If the other buttons do not work, repeat the steps again till you find the right code.