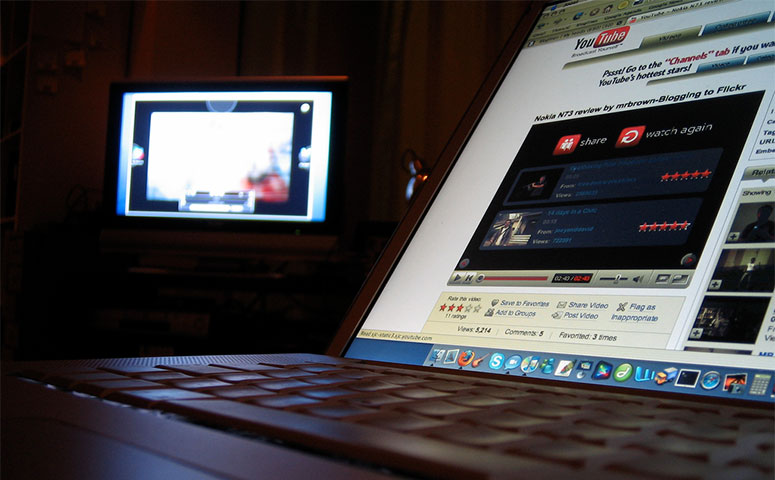 You can spend hours and hours stuck in front of your computer watching Youtube videos, but sometimes you feel like kicking back and watching it on the big screen. Well if you are subscribed to DIRECTV then you can watch Youtube videos from the comfort of your couch.
It is all pretty easy, once you have the right equipment. This will only work on either the HD DVR or DVR receivers that are model R22 or higher. These DVRs also need to be connected to the internet through your router.
To get to Youtube, all you need to do is click the MENU button on the remote. For those of you who have the regular DVR receiver, the on screen menu and from there, you will navigate down to SMART SEARCH. If you have the HD DVR or receiver, when you hit the MENU button, you then navigate to Search & Browse and from there select SMART SEARCH.
Once you are in the Smart Search section, you can type in whatever you would like to view on Youtube. So if you want Chinese food recipes, you could type "orange chicken recipes" or if you want to see the latest movie trailer, you could type it in. Once the keyword is put in, you will see a list of programs that match your search, you will also see listings from YouTube. All you have to do is select the video you want to see from YouTube, kick back and enjoy. It is that simple.
Aside from being able to watch the videos, you will also see preview images of the video, how much, views the video has, the length of the video and who uploaded it. If you have kids around and you don't want them to watch videos on YouTube, you can utilize the Parental control function to block it.
This is a nifty little feature and it adds some more programming options to your TV viewing. No longer are you confined to the study or the small screen to watch your YouTube videos. Now you can sit back in the couch and enjoy.
Check out the video below to see how easy it is to do.